Title : STONE COLD MATTEL WWE EXCLUSIVE RSC FIGURE INSIDER VIDEO!
Author : WrestlingFigs.com
Date : 09/10/2012 (05:24:40 PM)
Watch in HD! WrestlingFigs.com takes a close up, detailed look at the Mattel WWE Ringside Collectibles Exclusive 'Texas Rattlesnake' Stone Cold Steve Austin action figure! Including a 'Bionic Redneck' vest and both the Attitude-Era WWE Championship and Smoking Skull WWE Championship, the exclusive is sure to be one of the most popular ever made.
Watch as the Mattel WWE Exclusive Stone Cold Action Figure teaches WrestlingFigs own 'nWo Tom' Thomas Sanford a tough, not-so-PG lesson!
Produced by Jonathan Piontkowski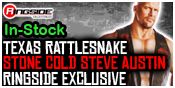 Click here to discuss this news on the WrestlingFigs forums