Title : NEW PRE-ORDERS! CACTUS JACK & EARL HEBNER RINGSIDE EXCLUSIVES!
Author : WrestlingFigs.com
Date : 02/11/2013 (12:32:18 PM)
New Ringside Exclusives are up for Pre-Order! Mattel WWE Hardcore Legend Cactus Jack & Jakks Referee Exclusive Earl Hebner toy wrestling action figures!

Please use the images below to order yours today!:


Cactus Jack (Mick Foley) "Hardcore Legend" Elite Ringside Collectibles Limited Edition Exclusive WWE Toy Wrestling Action Figure by Mattel! Includes handcuffs, stop sign and black steel steps!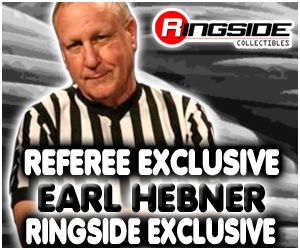 Earl Hebner "Referee Exclusive" - Ringside Collectibles Exclusive TNA Impact Toy Wrestling Action Figure by Jakks Pacific!
Click here to discuss this news on the WrestlingFigs forums