Title : MATTEL WWE ELITE 21 FIGURE INSIDER VIDS! Wrestling Figures
Author : WrestlingFigs.com
Date : 04/03/2013 (01:18:19 PM)
Checkout these hot new Ringside Collectibles Figure Insider Videos for the Mattel WWE Elite 21 wrestling action figures. Be sure to watch in HD for full detail of these hot new WWE Figures!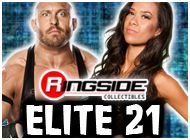 Mattel WWE Elite 21 includes the following wrestling figures:
Ryback (includes barbells and entrance shirt!)
AJ Lee (AJ's first ever Mattel WWE Elite figure!)
Rey Mysterio (includes t-shirt)
Honky Tonk Man (includes guitar and jumpsuit)
Alberto Del Rio (includes magazine and 2 scarves)
Randy Orton (includes t-shirt)