Title : WWE WRESTLEMANIA 30 ELITE FLASHBACK FIGURE INSIDER VIDEOS!
Author : WrestlingFigs.com
Date : 01/02/2014 (05:28:52 PM)
Mattel WWE "WrestleMania 30" Elite Flashback Bret "Hitman" Hart & Shawn Michaels Toy Wrestling Action Figures now have Ringside Collectibles Figure Insider Videos! Check them out below!

Click HERE to order yours today!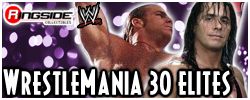 Click here to discuss this news on the WrestlingFigs forums