Title : MATTEL WWE ELITE 29 NEW MOC PROTO IMAGES!
Author : WrestlingFigs.com
Date : 06/18/2014 (10:27:45 AM)
Mattel WWE Elite 29 Toy Wrestling Action Figures have NEW MOC PROTO IMAGES at Ringside Collectibles!

**Only Goldust & Andre pics available - more coming soon!**

Click HERE to order yours now!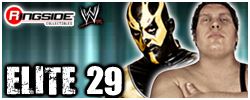 WWE Elite 29 Includes:
Goldust
Erick Rowan
Luke Harper
CM Punk
Damien Sandow
Andre The Giant