COMMENTATORS PLAYSET & 20 PIECE ACCESSORY PACK ON BACK-ORDER!
12/20/2012 (3:05:27 pm)

WrestlingFigs.com
These highly desired exclusives are up for sale again!…
The COMMENTATORS PLAYSET Ringside Exclusive & 20 PIECE ACCESSORY PACK Ringside Exclusive are now up for BACK-ORDER at Ringside Collectibles!

Please use the images below to order yours today!: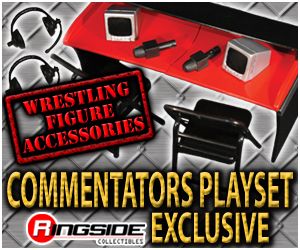 Commentators Playset includes:

1 Break-Away Commentators Table
2 Headsets
2 Folding Chairs
2 Monitors
&
2 Microphones!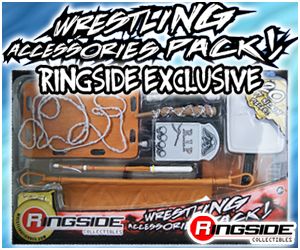 20 Piece Wrestling Accessories Pack by Jakks Pacific includes the following TWENTY accessories:
Barbed Wire Bat
Tall Ladder
Folding Chair
Large Breakaway Table
Microphone
Stretcher
Speed Limit Sign
Ring Bell With Hammer & Cord
Tombstone
Crutch
Kendo Stick
Plywood Board With Barbed Wire
Lead Pipe
Road Block
Table Cart
Camera With Power Pack & Cord
Steel Stairs
Road Cone
Trash Can With Lid
Large Cookie Sheet

Click here to discuss this news on the WrestlingFigs forums