FULL METAL HARDY & ACCESSORIES PACK RINGSIDE EXCLUSIVES!
08/17/2012 (3:39:10 pm)

WrestlingFigs.com
New Ringside Exclusives!Full Metal Hardy and 20-Piece Wreslting Accessories Pack now up for Pre-Order!…
New Ringside Exclusives now up for PRE-ORDER!
"Full Metal Hardy" Jeff Hardy TNA Ringside Exclusive & "20 Piece Wrestling Accessories Pack" Ringside Exclusive now up for PRE-ORDER at Ringside Collectibles!

Please use the images below to order yours today: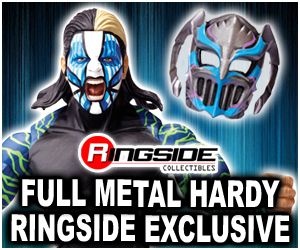 Jeff Hardy "Full Metal Hardy" - Ringside Collectibles Exclusive TNA Impact Toy Wrestling Action Figure by Jakks Pacific!
Includes brand new unique head scan, removable Mask Accessory and removable cloth Enigma Shirt!
The packaging of this wrestling figure has been exclusively designed to resemble Jeff Hardy's 'horned' mask worn to the ring, which is also included as an accessory!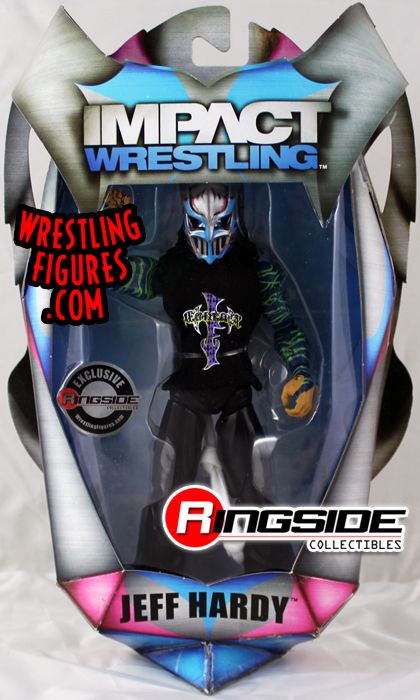 Click here to discuss this news on the WrestlingFigs forums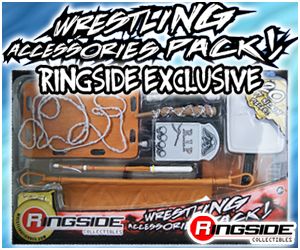 Massive Wrestling Accessory Pack! - Ringside Collectibles Exclusive Toy Wrestling Action Figure Accessories by Jakks Pacific!

Includes the following TWENTY accessories:
Barbed Wire Bat
Tall Ladder
Folding Chair
Large Breakaway Table
Microphone
Stretcher
Speed Limit Sign
Ring Bell With Hammer & Cord
Tombstone
Crutch
Kendo Stick
Plywood Board With Barbed Wire
Lead Pipe
Road Block
Table Cart
Camera With Power Pack & Cord
Steel Stairs
Road Cone
Trash Can With Lid
Large Cookie Sheet