MATTEL WWE BATTLE PACKS 19 & 20 RSC FIGURE INSIDER VIDEOS!
12/07/2012 (3:46:01 pm)

WrestlingFigs.com
Curt Hawkins vs. Brodus Clay, Epico & Primo & more!…
There are now Ringside Collectibles Figure Insider videos for the Mattel WWE Battle Packs 19 and WWE Battle Packs 20! Watch in full HD for MASSIVE DETAIL!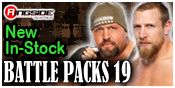 WWE Battle Packs 19 includes:
Big Show vs. Daniel Bryan
Epico & Primo
John Cena vs. Kane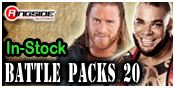 WWE Battle Packs 20 includes:
Brock Lesnar vs. Triple H
Curt Hawkins vs. Brodus Clay
R-Truth & Kofi Kingston