MATTEL WWE ELITE 26 & BATTLE PACKS 26 BACK IN-STOCK AT RSC!
01/17/2014 (5:26:28 pm)

WrestlingFigs.com
Big E Langston, Curtis Axel, Roman Reigns & More!…
Mattel WWE Elite 26 & WWE Battle Packs 26 Toy Wrestling Action Figures are BACK IN-STOCK at Ringside Collectibles!

Go HERE to order Elite 26!
Go HERE to order Battle Packs 26!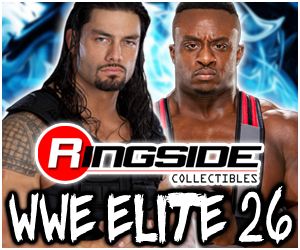 WWE Elite 26 includes:
Roman Reigns
Big E Langston
Ultimate Warrior
Road Dogg
Jack Swagger
Mark Henry
WWE Battle Packs 26 includes:
Nikki & Brie Bella (Bella Twins) - SOLD OUT
Curtis Axel & Triple H
Seth Rollins & Dean Ambrose (The Shield)
Click here to discuss this news on the WrestlingFigs forums