MATTEL WWE ELITE 60 NEW PROTO IMAGES & VIDEO!
04/20/2018 (1:39:48 pm)

WrestlingFigs.com
Mattel WWE  Elite 60 Toy Wrestling Action Figures have NEW PROTO IMAGES up at Ringside Collectibles! New Video – check them out below!

Elite 60 Includes: Elias, Kofi Kingston, Xavier Woods, John Cena, Triple H & Andre The Giant (Giant Machine)!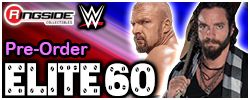 Click here to discuss this news on the WrestlingFigs forums
Tags: Andre The Giant, Elias, Giant Machine, John Cena, Kofi Kingston, Mattel, Mattel WWE, New Day, NXT, Raw, SmackDown, The New Day, triple h, WWE, WWE Elite, WWE Elites, WWE NXT, WWE Toys, Xavier Woods,