MATTEL WWE SDCC 2014 PANEL REVEALED!
07/10/2014 (3:18:13 pm)

WrestlingFigs.com
Mattel WWE SDCC 2014 Panel Information!…
Mattel WWE SDCC 2014 Panel Revealed!
Thursday, July 24 • 10:15am - 11:15am
Mattel and WWE: Over-the-Top-Action!
Two of the world's top entertainment companies have teamed up for the ultimate panel at SDCC. WWE Superstars and Mattel designers will talk about the all-new WWE Network and give exclusive sneak peeks of Mattel's upcoming WWE figure releases! Incredible guest appearances by Hulk Hogan, Daniel Bryan, Michael Cole, Paul Heyman, and you never know what else will be unveiled. This is a panel you won't want to miss, brother!
Follow us for FULL Mattel SDCC 2014 Coverage!
Twitter → https://twitter.com/ringsidec
Instagram → https://instagram.com/ringsidec
Facebook → https://www.facebook.com/RingsideC
YouTube → https://www.youtube.com/user/WrestlingFigsCom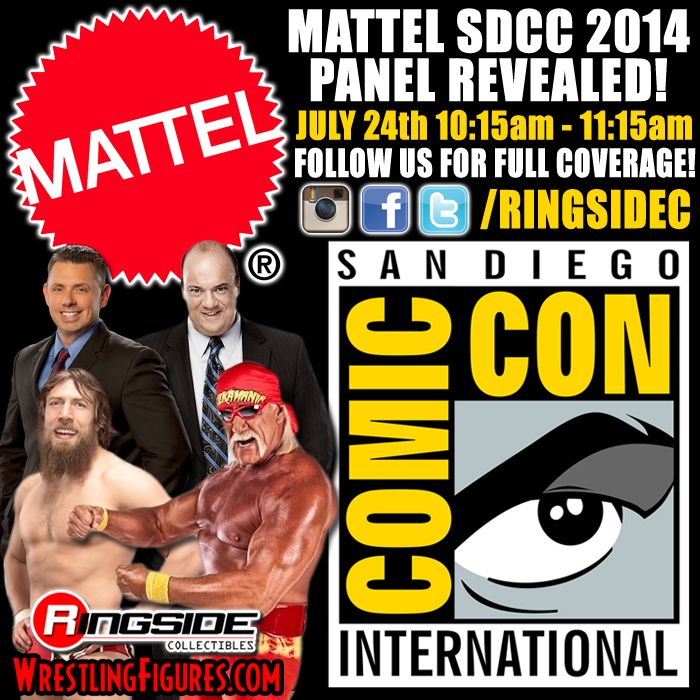 Click here to discuss this news on the WrestlingFigs forums