MATTEL WWE SHANE O MAC SHANE MCMAHON RSC EXCLUSIVE FIGURE INSIDER VIDEO!
06/30/2017 (9:43:07 am)

WrestlingFigs.com
Mattel WWE "Shane O Mac" Shane McMahon Ringside Elite Exclusive Toy Wrestling Action Figure has a new Ringside Collectibles Figure Insider Video! Watch Below!

Figure features his attire from his EPIC match against Kurt Angle at King Of The Ring 2001! Includes a breakaway "glass" KOTR set to put the figure through – just like Kurt Angle did!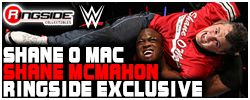 Click here to discuss this news on the WrestlingFigs forums
Tags: King Of The Ring, Mattel, NXT, Raw, Ringside Exclusive, Shane McMahon, Shane O Mac, SmackDown, Wrestling Figure, WW Toys, WWE, WWE Elite, WWE Elites, WWE NXT,