@TSFive GUEST BLOG #4: ELITE 27 FAVORITES!
03/04/2014 (4:47:49 pm)

WrestlingFigs.com
Tom shows off his favorite figures from Elite 27!…
Hey, amigos!

As the year flies by already (almost a quarter of the year finished!) and desperate times call for desperate measures (I'm beginning to think I'm going to have to be an actual, physical taxi here in Boston to lock down a job) I'm offered a bright spot in the form of wrestling action figures. Bright in inclusion thanks to the Attitude Era kick Mattel is on and bright in color thanks to Fandango. Check out the box I got sent to my parents' house because meals there don't cost anything but a 3 hour car ride: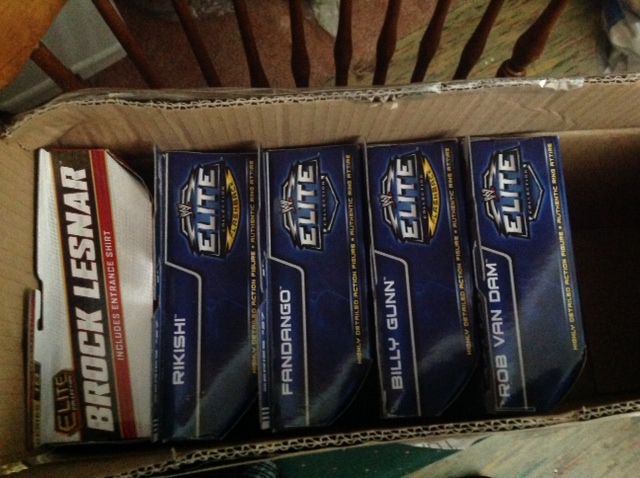 One of these things is not like the other. One of these things has a very square head.
I still like the new blue packaging but it's bizarre to see them next to each other for the first time and actually think about it. I'm not much of a MOC collector so I don't really care but I'm curious, those of you who are, what do you think about the 'inconsistency?' Food for thought. Obviously it works for appearing less boring on a store shelf.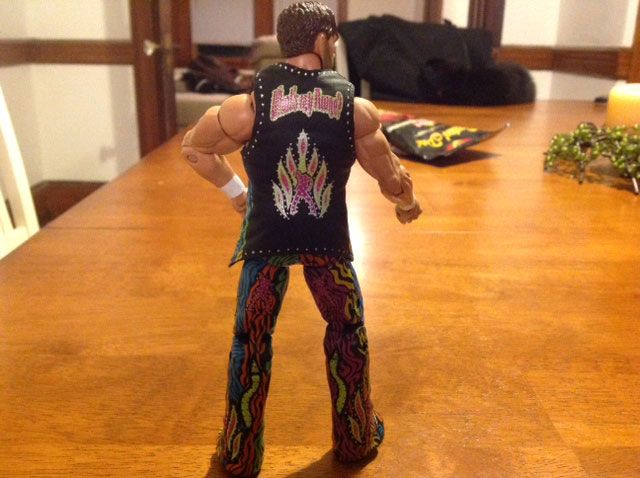 What's my motha f$%in' name?
Where did this come from? Lucky all of us. I'm not the greatest Fandango fan, he's great in-ring and his abs make me want to shove a pen in my eye knowing mine will never come close but the execution at times is a perfect example of Vince McMahon's mind being stuck in the 70's. I suppose that isn't Fandango's fault so I'll roll with him and it's better than the dumping milk all over his head thing so I hope it grows! The figure, after the huge issue deco always is and continues to be, seems like a bit of a blessing. There's plenty of other figures (and exclusives) that I've wished for that level of detail on. I'd say even if you're not a Fandango fan it's one to pick up solely because who knows when the next time any talent, including Fandango, will have a figure this detailed.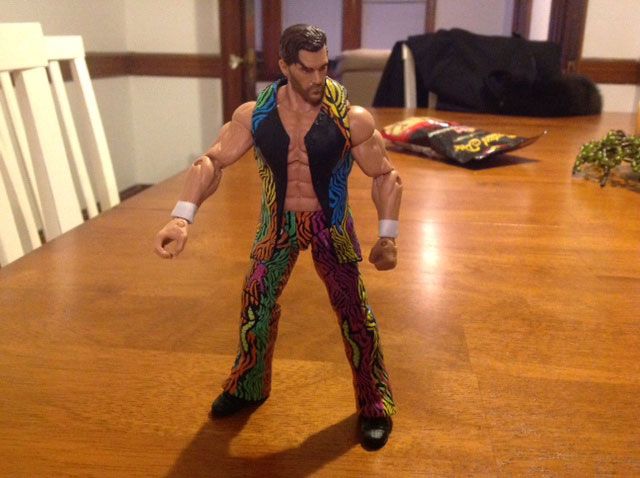 Please tell your significant other to stop staring at my stomach.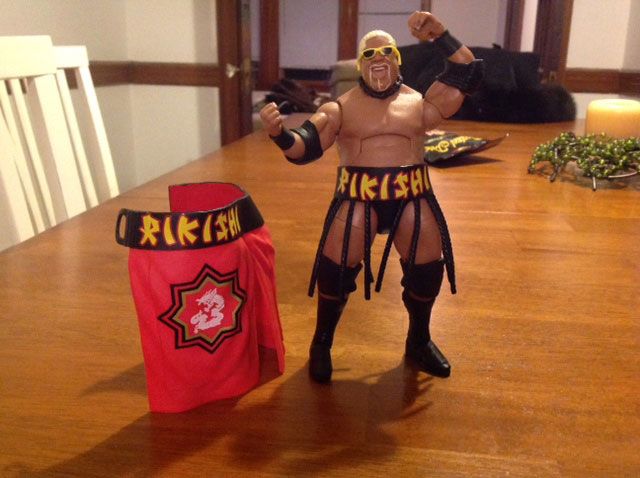 PARTY PEOPLE!
The Attitude Era is of course where I and many in my age group hopped on board the wrestling train and Rikishi, at the time, was an example of the family friendly direction WWE was already beginning to take that people tend to ignore. With that in mind, who else can think of a better scenario for a family watching TV to laugh at than someone shoving their giant, cellulite ridden backside into the face of an old doofus like Gerald Brisco or Pat Patterson? I sure can't. So, you can imagine my excitement when I opened Elite 27 Rikishi and fully expected detailed butt craters.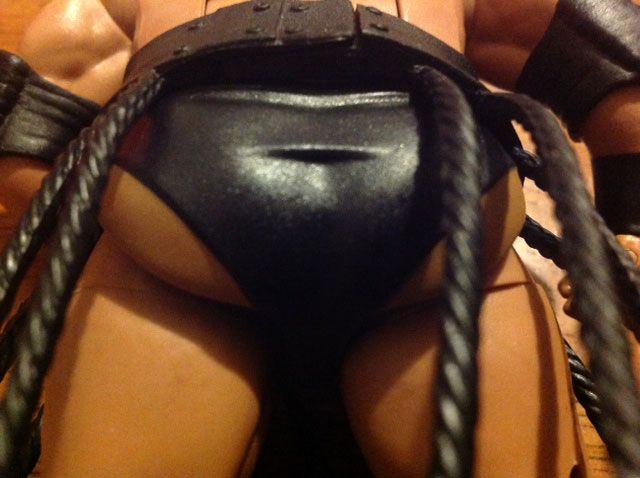 THIS IS NOT RIKISHI!
The excellent headscan is meaningless to me, the exceptional body mold true to Rikishi's size and look is meaningless to me, and the inclusion of an entrance sorang is also meaningless.To my extreme and utter disappointment, there is absolutely no ass-curacy to be found when zeroing in on Rikishi's rear. I have not googled a picture of Rikishi to see if maybe I am just imaging it's worse than I expected, but I assume Mattel has censored that which could not be censored. Long gone are the days of 'Punjabi Playboy' being unacceptable and here are the days of longer tights to cover a body part that Vince McMahon still proudly showcases during video packages. Can you get a more perfect Rikishi than Elite 27? Probably not, but I'd have loved more focus on one of Rikishi's greatest details. The stinkface...is his legacy.
Also, I'd rather sunglasses that fit into a divot molded into Rikishi's head than these clunky ones similar to Elite 6 Batista or whatever set that cardio-cursed goof was in. Not sure what everyone else prefers, though.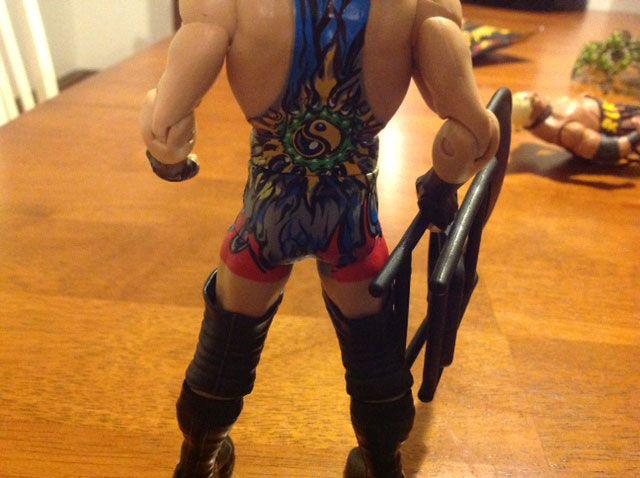 The second butt of the article.
Rob Van Dam, the savior everyone was waiting for and I hope many enjoyed, finally gets his first Mattel WWE figure and it's pretty much what you'd expect! Jakks did a great job with RVD's figures and Mattel is also doing a great job with them. I'll go with Jakks' headsculpt production value and go with Mattel's ring tight value, once again. The details are shining through, and everyone's taken tons of pictures of the dragon on the front and all that so I'm going to point out my favorite part, the back. The Yin Yang sun is cool but even better is the water droplets and their detail reaching all the way down to the bottom of the singlet. Something that could've been easily overlooked or become a cut corner. Nice work on Elite 27 Rob Van Dam, and hopefully there's more to come.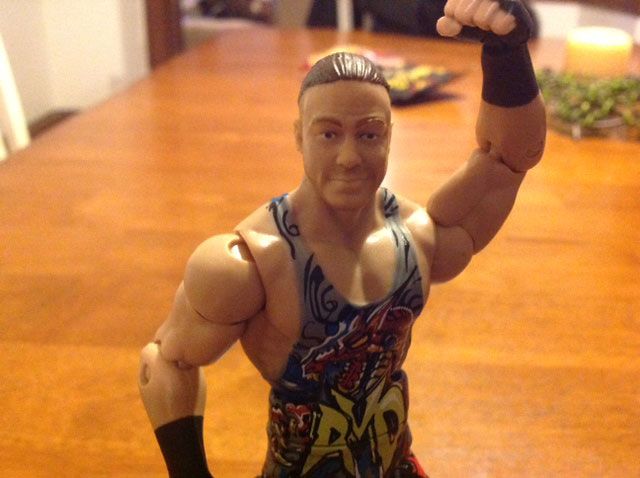 Is it ok if I eat whatever that bag of snacks is in the background?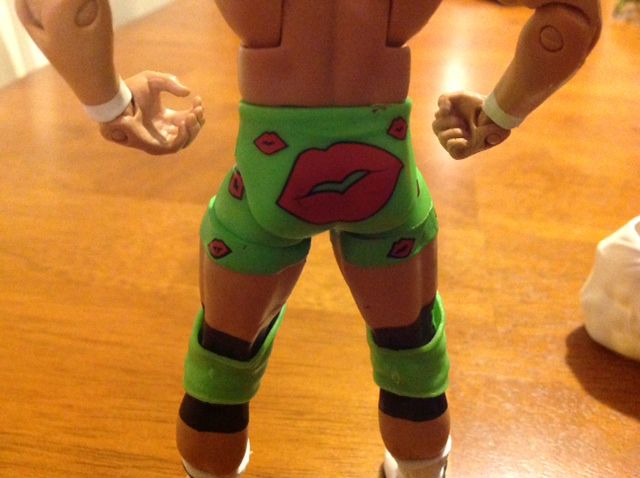 Butt-centric.
Last but not least, the triumphant debut of Mr. Ass. I've been enjoying the New Age Outlaws tag team run and am shocked that so many other people have been with the constant complaints about lack of 'new talent.' The fact of the matter is, the WWE found a way to present the New Age Outlaws in a fresh way, and that's as new as any NXT tag team being brought up and as new as any current, floundering tag team being more prominently featured. I'm all for it and it's even more exciting that it has produced wrestling figures (though by coincidence according to Bill Miekina.)
One thing I will point out with Billy Gunn's figure is when photographed, almost every single one I've seen so far, looks goofy as hell. It's more akin to the Jakks Bone Crunchin' Billy Gunn figures than its real life counterpart on film. So it was a pleasant surprise to me that in person, the figure looks a lot better. I can't explain it but it definitely has to do with the shadowing caused by the molding of his cheek bones if I had to guess. I'm disappointed by the lack of lips on the crotch and Mr. Ass but it's not surprising and the Rikishi butt fat argument is far more attainable. Dig the white shirt, though. Anything that reminds me of the good ol' days!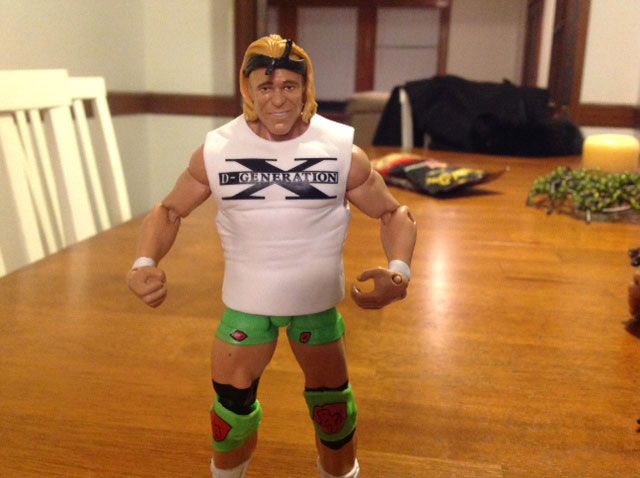 I am truly more handsome than I look.
That's it for me for now. Keep an eye out for the next article and as always, thanks for reading. As an update, I am hoping to have mustered up the money to get back in the ring very, very soon and in turn, putting it all where my mouth is. I saw the posts asking and while I don't like to give updates when I don't really have any, I appreciate everyone's curiosity and hope that soon, things can get moving again.
- Tom
Follow Tom on Twitter at @TSFive!
Click here to discuss this news on the WrestlingFigs forums