@TSFive Guest Blog #5: RSC PUNK+ROCK & ACCESSORIES!
07/08/2014 (11:31:52 pm)

WrestlingFigs.com
Plus, Money in the Bank thoughts & the best Christian wrestling figure ever?…
My dudes! How are you doin'? It's been quite a while, about 4 months to be exact, and I've finally pried some new wrestling figures from the death grip of Ringside Collectibles! Just kidding. My life got flipped turned upside down at the beginning of May and I'm finally settling in to a new apartment and a new job! I've still been hitting the ring and after an unfortunate month off, am back for good.

Indy Cred may take a while to get here, but now there's even more story to tell and I promise it'll be fun to watch and worth it when it arrives. In the meantime, here's some cool new stuff!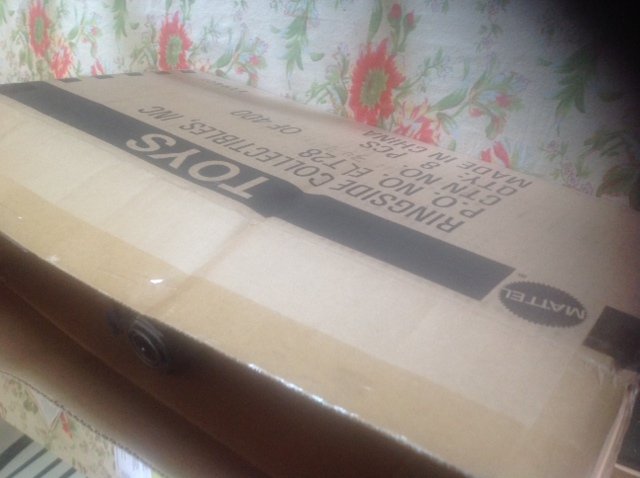 Box of surprises! Including Money in the Bank tickets!
As you know, I live in Boston now, and amongst my box of toys were a couple of tickets to Money in the Bank! I was excited at the possibility of a Christian/Chris Jericho/Daniel Bryan return so I went ahead and sunk my teeth in and brought my new roommate.
By the time we got to Rusev she had had enough so I ended up having to take off early (I wonder why?) but the tag match was great and I did enjoy getting to see Stardust for the first time. Weird.
Anyways, a couple of guys sitting in front of me didn't like it when I popped for Christian's announcement on the panel and yelled out 'Christian f*ckin' sucks.' (Direct quote.) Hey, you paid to get into a WWE show, you can yell whatever you want, but the guys that are putting the old dudes out to pasture are kind of embarrassing. I wanted to let them know it wasn't that serious but I didn't want to get their Cesaro and BnB shirts all scuffed up or interrupt their news site updates they were sharing with each other. (OH NO! COREY GRAVES IS INJURED!)
I like NXT as much as the next guy, but I'll never sit and pretend I'm in a secret club for following it. I'm not even going to sit and act like Christian or RVD are any 'better' than anyone on the NXT roster, but I do know that yelling out to RVD that you've 'SEEN IT A MILLION TIMES' and getting frustrated every time he gets close to the case to the point of physically acting out is pretty bizarre. And that's coming from someone that thinks RVD is being booked extremely stale. Just when I think the word 'mark' loses its' relevance, it takes a new form and attacks downtown Boston. Other than that, the show wasn't bad!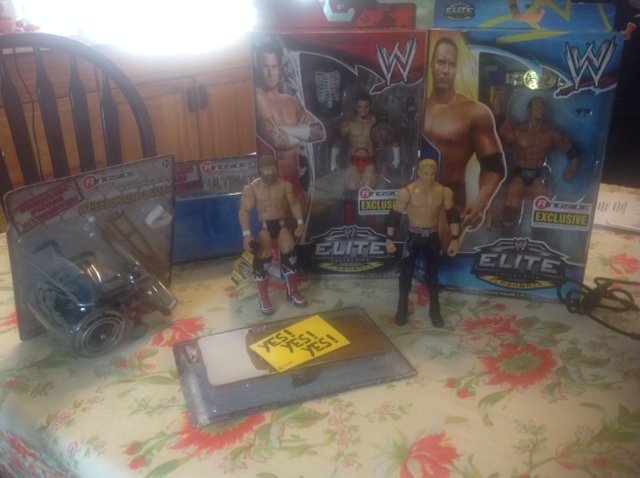 "Wow...what a haul!" - Marv the Wrestling Figure Collector
Ringside was nice enough to send me a bunch of new accessories, the ECW CM Punk & Brahma Bull Rock Exclusives, Elite 28 Daniel Bryan and Series 39 Christian. Forget 4th of July, the celebration is on my parent's kitchen table!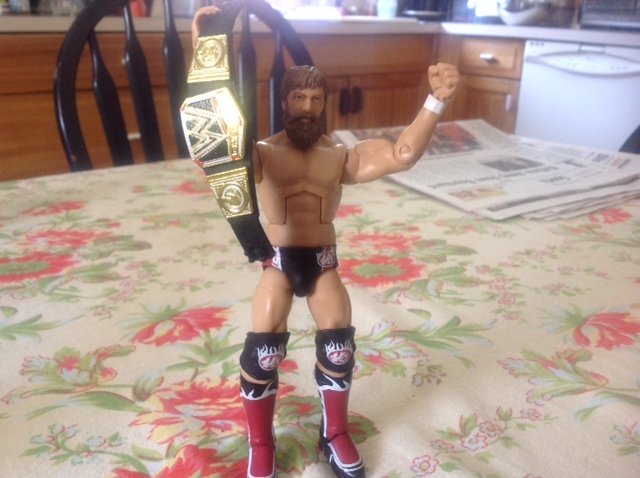 Oui! Oui! Oui!
I've been as pumped as the next guy and equally as bummed at Daniel Bryan's fortune and misfortune. My fondest memories of him will remain watching him take on Shingo at the old ECW arena for DragonGate USA, but he's always a highlight of any WWE for me. His Elite 28 figure has that bearded sculpt that's in that weird 'we're not really sure what you look like' stage. It's a cool figure but represents a different time. I'll be happy when an Elite figure comes out with his new Series 41 sculpt. Oh, and speaking of basic sculpts that should be on Elite figures: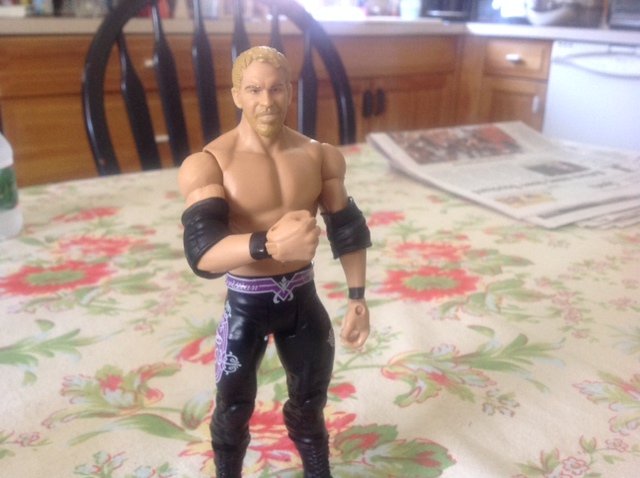 YOU KNOW SOMETHIN'? YOU KNOW SOMETHIN'? YOU KNOW SOMETHIN'?
Where did this excellent Christian come from? Seriously, probably the best, most spot on Christian head sculpt ever comes out of nowhere in Mattel WWE Series 39. I've grown and learned to embrace the aggressive, thorn-in-the-side Christian that we've had to deal with for the past year, taking in his feud with Sheamus and really enjoying the hell out of it. I don't care what those goofs who sat in front of me at MitB said, he's still one of the best. This figure represents that pretty well, and looks JUST like he looks right now. As someone who prefers Elites, though, I'm tempted to just pop off the head and swap it out with the TRU Exclusive Christian. Maybe, but warming up water is about 45 seconds too long of a task I want to deal with right now. Oh well.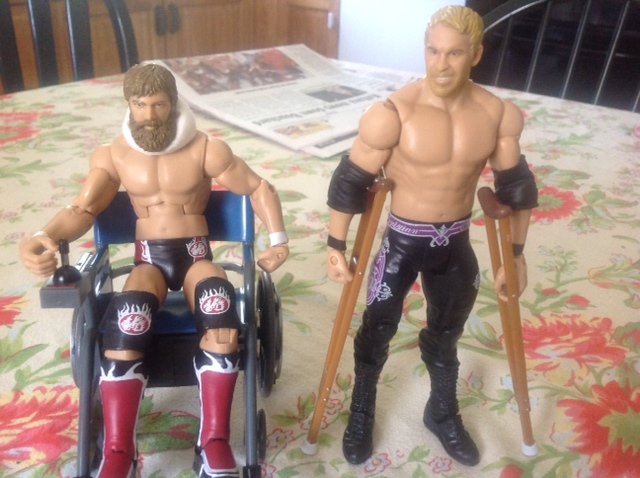 Ouch.
With both Christian and Daniel Bryan on the proverbial WWE DL, I've had to expand my horizons and give other talents a shot when watching TV and as someone with little to no patience for mainstream wrestling it hasn't done me much good. Luckily I can now just throw some crutches and a wheel chair onto these two and give myself a more entertaining three hours every Monday night. Thanks to @RingsideC, I can now have a real life cripple fight with none of the guilt and two of my favorite wrestlers. These accessories are basically must haves for anyone that's deep into wrestling figures role play. Possibilities are endless and Ringside continues to grow them.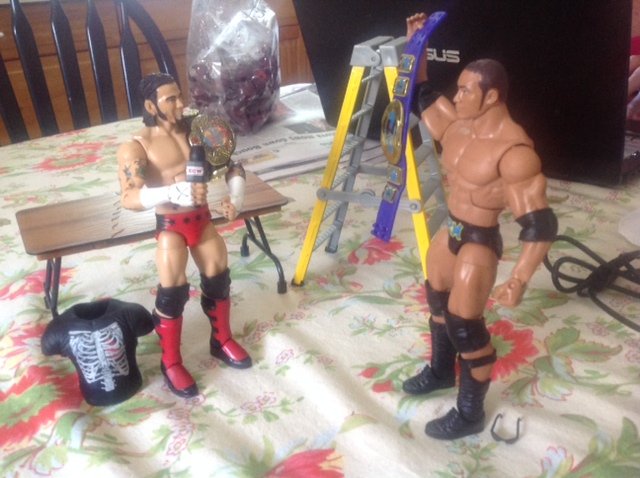 You leave first! No, you leave first!
Back when people were actually excited about the ECW revival and WWE wasn't making up absurd fake names for people, CM Punk was in his glory. I admittedly didn't watch mainstream or indy wrestling at the time but have since gone back to see what all the fuss is about and it doesn't get much better than this version of CM Punk. This is about as close to a Ring of Honor figure as any of us will probably get in our lifetime, so the mic and the ECW Championship for classic fans of that brand are just added bonuses. Add in the fact that he's super cheesin' it with that smile and your CM Punk collection now grows from bottom to top. Will he ever come back? Who knows. But he will be celebrated.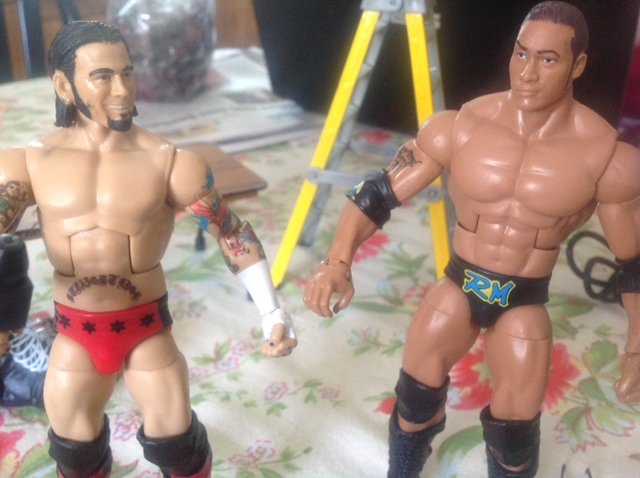 Is it cool if I call myself the Uhaa Nation of Domination?
Back when The Rock's mouth was as big as Vince McMahon's grapefruits, he ran it and said things that absolutely no one could get away with today. It was awesome. They try to capture it with Cena making goofy jokes but it doesn't even come close and just makes me appreciate the Rocky Miavia days more. With the yellow ladder, purple Intercontinental Championship and the RM trunks, this Rock is a little more specifically 'attitudinal.' My only gripe would be that the body mold could further reflect his definition at the time but that I think is a line-wide issue. It may never be fixed as I'm sure The Rock doesn't want to approve a figure of himself that looks like it's been snacking on Grandma's peanut butter cookies in comparison to his modern day beef physique, but let's hope it's possible. Either way, to see classic versions of both CM Punk and The Rock come out so close to each other is exciting and I think proves RSC's dedication to the collector. It could easily be a modern day talent no one wants but instead it's something cool. Be thankful. I am! (insert butt kissing comment here.)
I kiss no butts.
Join me next time as I (hopefully) bring the Wyatt Family together and give you a little more of an update as to where I'm at in the squared circle. If any of you are in the Boston area and want to see what it's like and if you'd be interested, PM me on the boards and let me know and we'll see if you can't come down for an evening where I train and decide if you want to give it a shot yourselves!
Be good and 'til next time!
- Tom
Follow Tom on Twitter at @TSFive!
Click here to discuss this news on the WrestlingFigs forums