WWE TMNT SUPERSTAR FIGURES SERIES 2 NEW PROTO IMAGES!
05/31/2017 (11:27:03 am)

WrestlingFigs
WWE Teenage Mutant Ninja Turtles Superstar Series 2 Figures by Playmates have NEW PROTO IMAGES at Ringside Collectibles!
WWE TMNT Series 2 includes: Leonardo as Finn Balor, Donatello as Ultimate Warrior, Raphael as The Rock & Michelangelo as Roddy Piper
Check out the gallery below!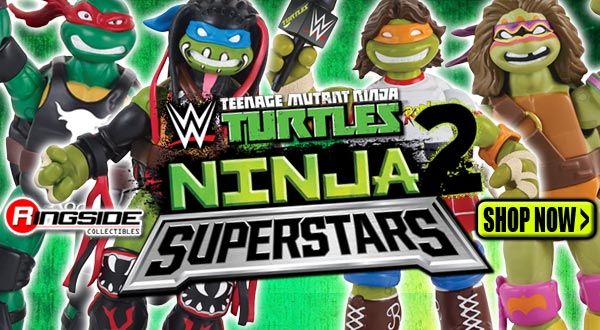 Click here to discuss this news on the WrestlingFigs forums
Tags: Finn Balor, Ninja Turtles, NXT, Raw, Roddy Piper, SmackDown, Teenage Mutant Ninja Turtles, the rock, TMNT, ultimate warrior, Wrestling Figures, WWE, WWE NXT, WWE TMNT, WWE Toys, WWE Turtles,