CHIKARA RETURNS TO PHILADELPHIA ON 9/7, COMPLETE DETAILS
08/30/2019 (1:05:44 am)

Bob Mulrenin
In just 9 days, CHIKARA returns home for "Chikarasaurus Rex"! Join us on 9/7 for an afternoon 3:00pm EST bell time. We are wrapping up summer with action hotter than the Jersey Shore! With an anticipated 15 matches, here's a sneak peek at some of what you can expect…
As part of his 25th year in wrestling, Mike Quackenbush has curated a list of 25 matches he would like to partake. After long discussion over where and when this match should take place, we finally have our answer. In 9 days, at The Wrestle Factory, Match 13 of Mike Quackenbush's 25th Anniversary Tour is set! The Bad Boy, Joey Janela, returns to CHIKARA to take his chances against The Master of a Thousand Holds! Many have tried to best the Head Trainer of The Wrestle Factory before, but Janela will be certain to bring his signature unpredictability he hopes will catch his adversary off-guard. Be there as it happens live, only at "Chikarasaurus Rex"!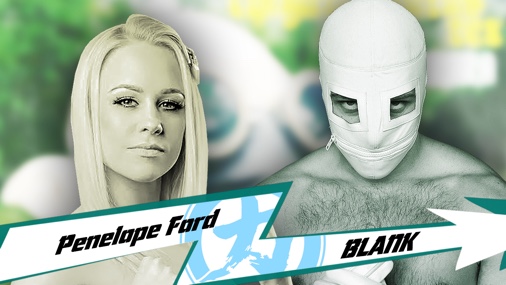 The Tortured Artiste, BLANK, looks to finally get his gloved-fingers on the apple of his eye, Penelope Ford! The reasons for BLANK's stranger than usual behavior, while a mystery, seems to have stemmed from his interactions with Penelope Ford.  After charging through Shazza McKenzie and Lady Frost, BLANK will seek his third point through the person that has drawn his focus!

Trios Action will be on hand as the members of the Creatures of the Deep take on three of the disciples of The Crucible! In recent weeks, Oceanea has heard the rumblings of a new group of insurmountable foe to face CHIKARA. To that she replied, "Bring them to me and I'll see how insurmountable they really are!" She's paired her with her fiercest creatures to take on Devantes, Lance Steel, and The Whisper in a match looking to reassert her dominance over CHIKARA. This one will not be pretty, but when these 6 are any where near a ring, is it ever?
Our End-Of-Summer Spectacular Looms Near!
Grab your seats before they leave quicker than summer!
CHIKARA: Chikarasaurus Rex
Saturday, September 7th, 2018 @ 3:00 pm
Our end-of-Summer Spectacular!
4711 Wingate Street :: Philadelphia, PA
Get your tickets today!