SHIMMER RETURNS TO BERWYN, IL THIS WEEKEND, COMPLETE DETAILS
04/12/2018 (9:03:59 am)

Bob Mulrenin
SHIMMER – WOMEN ATHLETES News for April 12, 2018
Follow SHIMMER on Twitter
www.twitter.com/shimmerwomen
Like SHIMMER on Facebook
www.facebook.com/shimmerwomen
Follow SHIMMER on Instagram
www.instagram.com/shimmerwomen
Headlines:
– We're back in Berwyn this weekend for SHIMMER 101-104!
– Eagles vs. Purrazzo Submission Match signed for Saturday!
– SHIMMER 100 now available to watch on demand!
SHIMMER 101-104 THIS WEEKEND IN BERWYN!
SHIMMER – WOMEN ATHLETES returns to the Berwyn Eagles Club (6309 26th Street) in Berwyn, IL THIS WEEKEND, Saturday & Sunday, April 14 & 15, 2018, for SHIMMER 101-104! SHIMMER 101 & 102 will take place on Saturday, April 14, with a 2:00PM bell time. SHIMMER 103 & 104 will take place on Sunday, April 15, with a 12:00PM bell time. The events are suitable for all ages.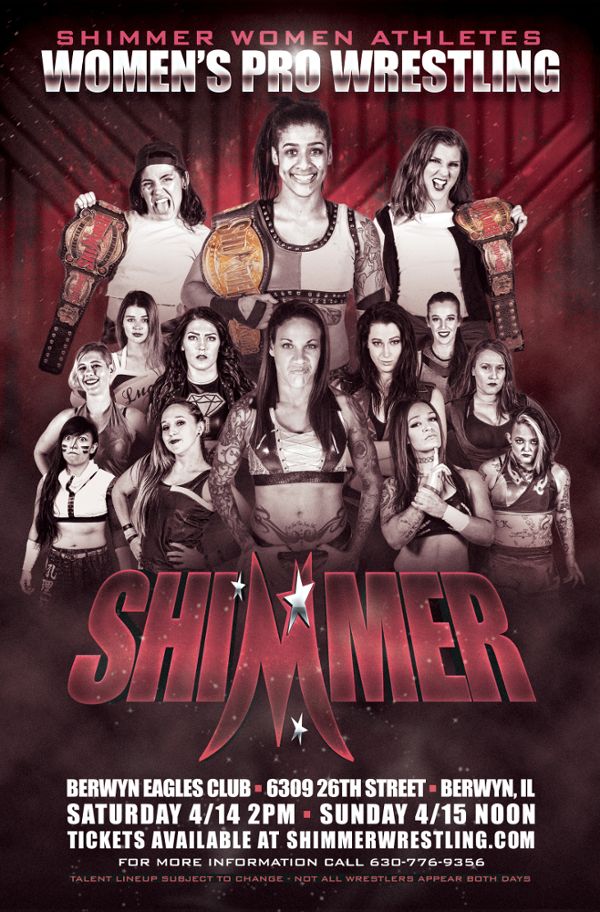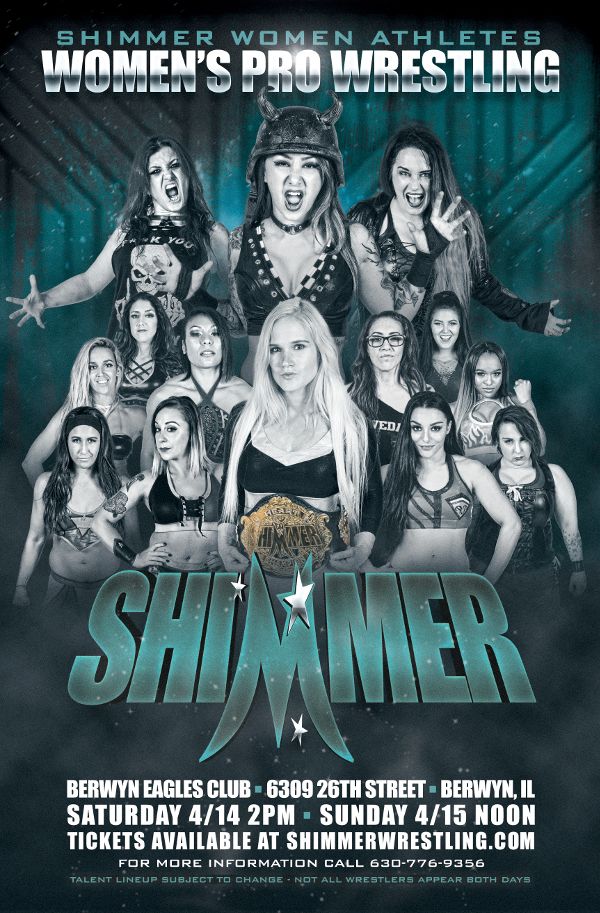 Among the competitors who will be in action during the SHIMMER 101-104 weekend: SHIMMER Champion Nicole Savoy, Heart of SHIMMER Champion Shazza McKenzie, SHIMMER Tag Team Champions Leva Bates & Delilah Doom, Madison Eagles, Mercedes Martinez, Nicole Matthews, Mia Yim, Cheerleader Melissa, LuFisto, Hudson Envy, Shotzi Blackheart, Kimber Lee, Kris Wolf, Samantha Heights, Rhia O'Reilly, Rachael Ellering, Veda Scott, Jessica Troy, Charli Evans, Kiera Hogan, Zoe Lucas, Jessicka Havok, Nevaeh, Brittany Blake, Dust (with Courtney Rush), "Fallen Flower" Kikyo, Dynamite DiDi, Deonna Purrazzo (Saturday only), Tessa Blanchard (Sunday only), Chelsea Green (Sunday only), Britt Baker (Sunday only), "The Minnesota Home Wrecking Crew" of Rain with her manager Lacey (Sunday only), and more competitors still to be announced during the remaining days! Over 35 of the top female professional wrestlers from around the world will be a part of the SHIMMER events this weekend!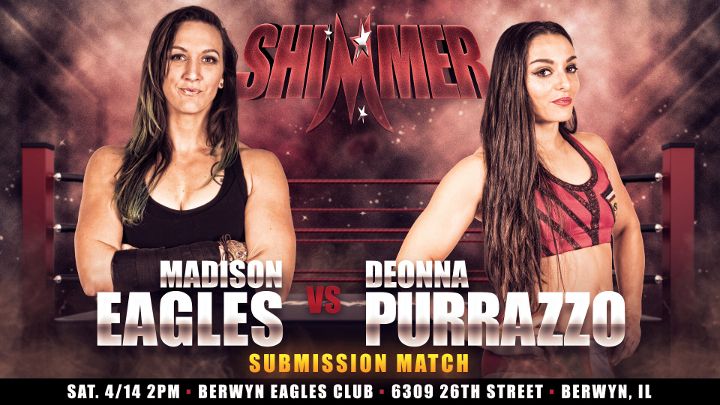 Already signed for Saturday, April 14th is a rematch of the SHIMMER 100 bout between Madison Eagles and Deonna Purrazzo, except this time, it's Submission Only!
LOW TICKET ADVISORY: Please be aware that the Berwyn Eagles Club is a very small venue, and seating is extremely limited. We strongly advise the purchase of tickets in advance to guarantee seating on the chance of a sellout. Any remaining tickets will be available at the door on the day of the show, but once venue capacity is reached, we must turn away any additional fans looking to buy at the door. Since the events are just days away, all tickets sold from this point forward will be held for you to claim at the door. 
All reserved seating for SHIMMER 101 & 102 on Saturday, April 14th is already sold out. Less than 30 general admission tickets remain available for Saturday. First row reserved seating for SHIMMER 103 & 104 on Sunday, April 15th is sold out, but second and third row reserved seats, as well as general admission seats, are still available for Sunday. Below is a look at which second and third row reserved seats are still open for Sunday, April 15th. You can request specific reserved seats by simply E-mailing [email protected] at the time of purchase.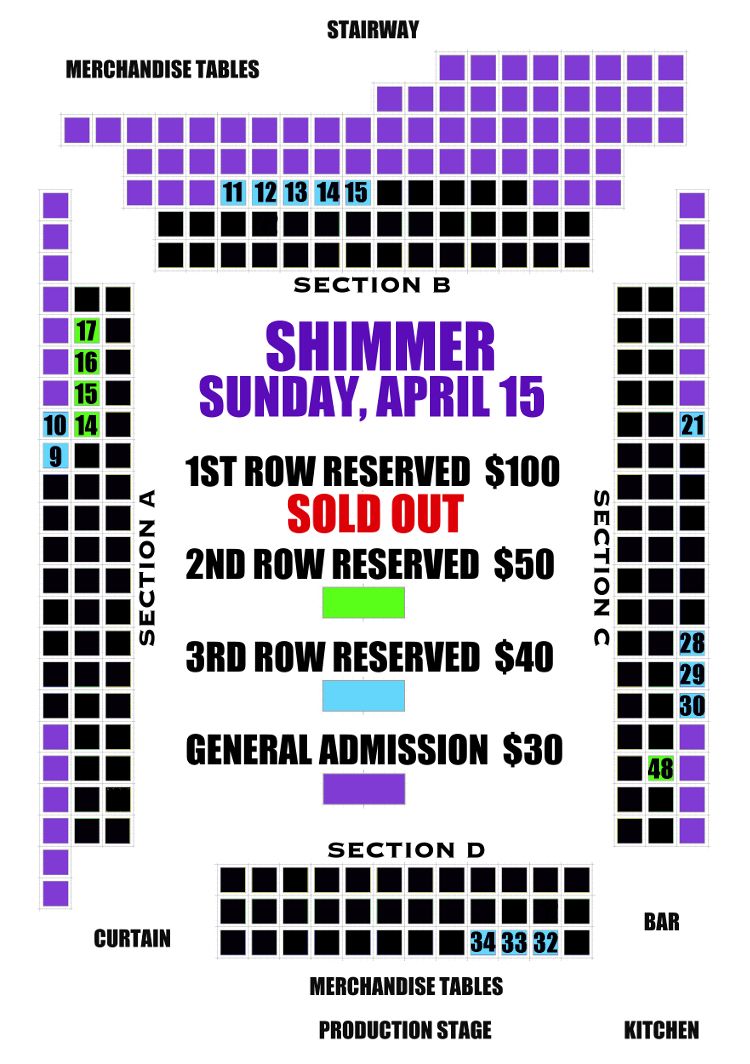 WATCH SHIMMER 100 ON DEMAND!
Thank you to everyone who supported us for SHIMMER 100 this past Saturday, either live at the venue in New Orleans or by watching on iPPV!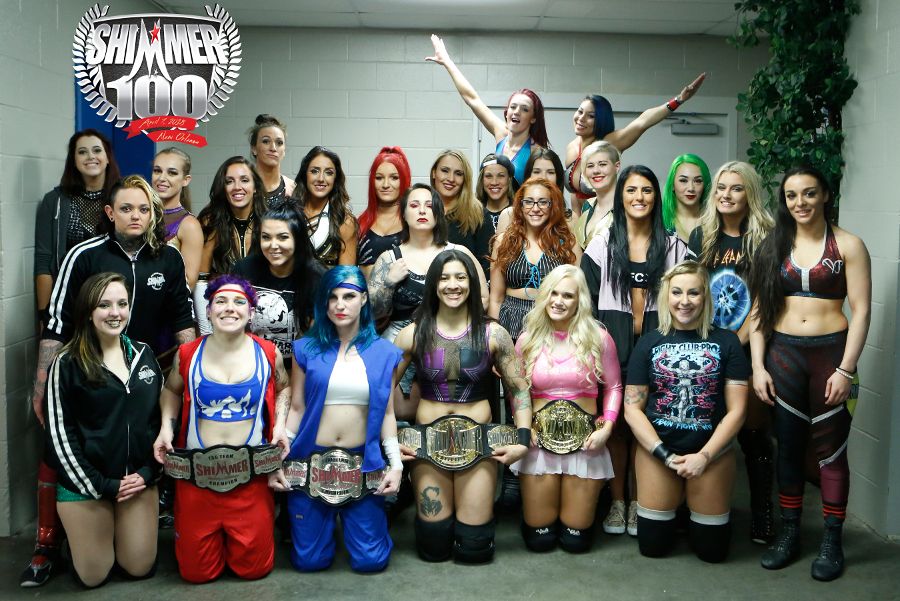 If you missed SHIMMER 100 live, you can still catch all the action on demand! The VOD is up at www.WWNLive.com right now, and the individual matches will be up as mp4 downloads shortly at www.ClickWrestle.com as well.
WWNLive VOD of SHIMMER 100 – www.wwnlive.com/product/shimmer-100-on-demand/?v=7516fd43adaa
Here's a look at the matches from SHIMMER 100…
SHIMMER CHAMPIONSHIP MATCH
(Champion) Nicole Savoy vs. Mercedes Martinez
HEART OF SHIMMER CHAMPIONSHIP MATCH
(Champion) Shazza McKenzie vs. Tessa Blanchard
SHIMMER TAG TEAM CHAMPIONSHIP MATCH
(Champions) Leva Bates & Delilah Doom vs. LuFisto & Hudson Envy
Toni Storm vs. Nicole Matthews
Madison Eagles vs. Deonna Purrazzo
Cheerleader Melissa vs. Shotzi Blackheart
Britt Baker & Chelsea Green vs. Charli Evans & Jessica Troy
Kimber Lee vs. Samantha Heights
Mia Yim & Kay Lee Ray & Rhia O'Reilly vs. Kellyanne & Zoe Lucas & Veda Scott